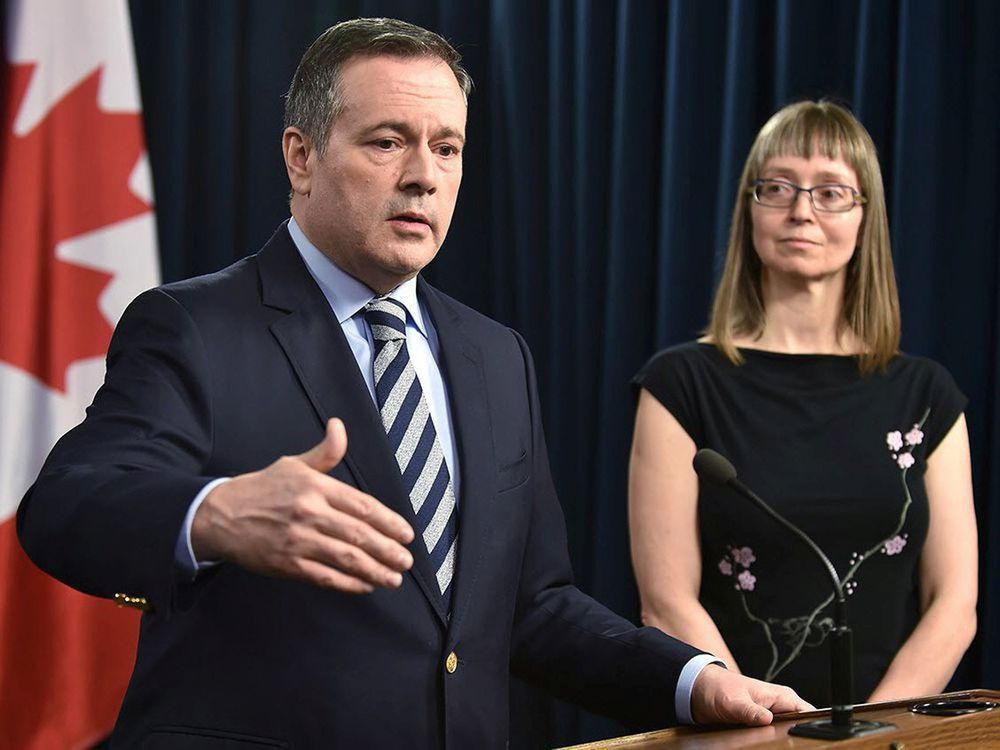 Article content
As Omicron continues its surge, Premier Jason Kenney and Alberta's chief medical officer of health are set to provide Tuesday afternoon the first live update on COVID-19 since Dec. 29.
Article content
Dr. Deena Hinshaw, along with Kenney, will appear at a 3:30 p.m. availability to provide the latest data from Dec. 29 to Jan. 2 as the public searches for clarity on testing accuracy and safety in the midst of the rapidly spreading Omicron variant.
The update comes after the province reported 2,775 new cases of COVID-19 on Dec. 28 and most recently estimated 4,000 new cases, a pandemic high, on Dec. 30. Alberta also estimated a 30 per cent test positivity rate and 371 people in hospital.
Last week, Alberta extended winter break for K-12 students until Jan. 10 but school leadership is sounding the alarm over the lack of a provincial plan when it comes to how best to keep kids and teachers most safe from the variant's spread. The surge of Omicron cases in Ontario prompted that government on Monday to announce its school closure will last until at least Jan. 17.
Article content
Education Minister Adriana LaGrange has said 8.6 million at-home rapid tests will be distributed to schools across the province on Jan. 10 and 16.5 million medical-grade masks will be made available for staff and students.
To help battle Omicron, isolation periods as of Monday were cut in half for fully vaccinated Albertans; they will have to isolate for five days rather than 10. The change, based on evidence that vaccinated people shed the virus for a shorter amount of time making them less infectious, is partially in response to workforce-related challenges, Health Minister Jason Copping said last week. He said the new rules would apply to workplaces where disruption of service for 24 hours or more would be harmful to the public.
Rachel Notley, leader of the opposition, meanwhile continues to call on the Alberta government to release its hospitalization forecast, noting the province is starting the Omicron wave at a higher level of COVID hospitalization than most other provinces and another wave is worrying for the health-care system and those still waiting for surgeries.
View original article here Source