Article content
You want cold? We got it.
You want wind chill? We got it.
We got cold today and we got cold tomorrow and we got clouds and we got wind gusts, I mean we got it all.
And right now if you enter our special promo code "frostyfingers" at checkout we guarantee an extra three days of extreme winter.
All kidding aside, layer up out there, and then make sure those layers have layers. I'm hoping that the prediction of warmer weather next week is true.

---
Extreme cold warning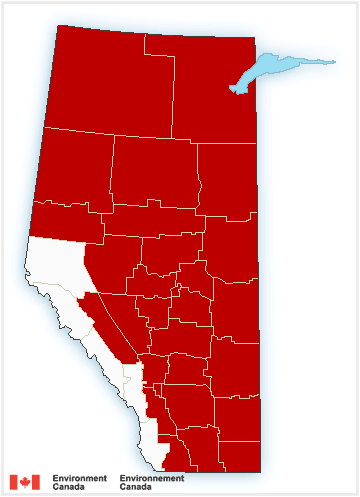 Edmonton, St.Albert and Sherwood Park along with all other surrounding areas are under an extreme cold warning.
Expect prolonged extreme cold wind chill values between -40 and -50 to continue until the weekend. Albertans are asked to cover up because frostbite can develop within minutes on exposed skin. Risk is highest for children, older adults, people with chronic illnesses, people working or exercising outdoors or those without proper shelter.
Article content
Keep emergency supplies in your vehicle such as extra blankets and jumper cables.
Don't leave pets outside for prolonged periods of time.
---
Today's forecast
Today: Mainly cloudy with 30 per cent chance of flurries. Wind up to 15 km/h. High minus 28. Wind chill minus 43 this morning and minus 34 this afternoon. Frostbite in minutes.
Tonight: Mainly cloudy with 30 per cent chance of flurries early this evening. Clearing late this evening. Wind up to 15 km/h. Low minus 32. Wind chill near minus 36. Risk of frostbite.
Tomorrow: Increasing cloudiness in the morning. Wind up to 15 km/h. High minus 24. Wind chill minus 38 in the morning and minus 32 in the afternoon. Risk of frostbite.
Sunrise: 8:49 a.m.
Sunset: 4:30 p.m.
Normals
Average High: -8 C
Average Low: -16 C
Yesterday
Max: -25.1 ° C
Min: -28.8 ° C
Precipitation: 5.4 mm
On This Day (1996-2020)
Highest temperature: 6.4°C in 2006
Lowest temperature: -31.6°C in 2014
📸 Eye On Edmonton
This space is dedicated to some of the great and interesting photos taken by Postmedia photographers while they're out and about town.




Scroll through our archived Eye On Edmonton photo galleries.
View original article here Source